So, you've finally decided to install a pool in your backyard. You've done some research, weighed the pros and cons of different types of swimming pools, selected a pool builder, and are ready to get started! But wait… one thing you must consider is the best time of year to construct your swimming pool! There are pros and cons to building a pool at different times of the year. This post discusses the best season for pool installation.
Building a swimming pool in summer
If you live in a higher temperate climate, building your pool during the summer months can be advantageous. The surface will not crack because of extreme temperature changes, and termites are less likely to destroy wood components. You'll also have more time for installation and finishing (nights and weekends will be less complicated with the kids at camp or away on vacation). However, you may have to contend with sweltering summer temperatures. If you decide to build your pool during this time of the year, ensure that the excavation contractor is well informed about proper backfill procedures! You'll want sand as one of the aggregate materials to provide both strength and drainage.
Building a swimming pool in winter
If you live in an area with cold winters, building pools can be hampered by the harsh weather, with frequent snowstorms. Furthermore, if it's too cold outside (less than 20 degrees Fahrenheit), water will not drain properly (this is because the ground will not be warm enough for water to seep through). You'll also need an ice-melting system if you live in cold weather conditions.
One of the biggest advantages of the winter season is that there are fewer insects and pests to destroy wood components or chew on plastic liners. Traditionally, this is also not a time for pool building activities, so you'll have easy access to discounts from pool builders to save money, and the cost of materials will likely have lower prices.
Building a swimming pool in fall
Another good time of year to build a pool is during the fall. You'll have less chance of inclement weather, so you won't have to worry about bad weather delays during the project. The ground will also be warmer and drier because of the summer heat, making it easier to dig and perform installations. Furthermore, the vegetation is thriving, and you have the chance to plant any greenery you want around your pool.
On the downside, you may also have to contend with fallen leaves, which could clog up your pump basket or cover up your pool. Plus, you'll have to wait a long after the project is completed before you finally get to enjoy your new pool.
Building a swimming pool in spring
Many homeowners believe that spring is the ideal time to build their pool. Spring pool installation allows you to make the most of a new backyard feature throughout the oncoming summer month. You also won't have to worry about any harsh winter weather or freezing temperatures (the ground will already be thawed out, and the pool area can be filled with water right away).
However, this is prime time for termites and other insects – they'll need a moist environment to thrive. Your choice of materials may also suffer as prices tend to increase in spring. Remember that this is the peak season for pool builders, so getting hold of an installer will also be more difficult.
When is the best time to install a swimming pool?
Overall, the best time to build a pool will come down to personal preferences. If you hate the cold, you might want to consider building a pool in spring or summer. If you have kids out of school, it will be easier to help with the pool building process. The best time will also depend on your local climate and weather conditions throughout the year – winter months may not be a good idea if there's snow or heavy rainfall. You will also need to consider your budget, as some seasons may be more expensive than others (spring is one of the most costly times).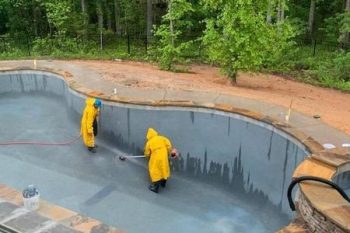 What else should you consider before building a pool?
Aside from the timing, there are a few other things you should have in mind before digging:
Laws surrounding pool construction
Local building codes may require that other properties do not overlook your backyard. You might also need a permit or license to build the swimming pool, depending on where you live. Check for underground utilities – before digging, make sure there are no gas, power cable, or water pipes hidden underground (this could cause serious damage).
Contractors
You'll want to hire a reputable pool builder. Make sure you go through the company thoroughly – ask for references and testimonials, read online reviews (such as those on their website), check out credentials, etc. Contact your local Better Business Bureau or Consumer Affairs office to check any unresolved complaints about your potential pool builder or whether they've been previously fined for any infractions.
Budget
Building a dream pool can be costly, and you want to avoid any unnecessary expenses. Make sure your budget allows for the best materials, as well as things like insurance (in case of accidents) and regular cleaning/maintenance costs over time.
Longevity
Remember that building a pool is an investment. It's not just about the initial costs, but rather how it will affect your lifestyle over time. A pool is a considerable long-term expense, so you need to make sure it's something that will stay with your family for years to come.
Come to Specialty Pools!
If you're in the market for pool builders Phoenix, don't forget to contact Specialty Pools! We have been in the pool industry for many years and know exactly what it takes to build a backyard oasis that you'll want to spend time in all year long. Call us today or visit our website for more information.