3D Swimming Pool and Outdoor Space Design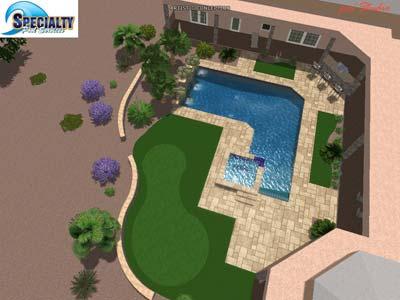 When you're deciding on the design specifications for a new pool, it can be difficult to visualize on paper. Looking at blueprints may make sense to an architect, but the average homeowner benefits much more from a 3D model. That's why at Specialty Pools, we use CAD-Software to design the layout of your pool before we create blueprints. This provides some major benefits to making your pool construction process much smoother.
Benefits of 3D Swimming Pool Models
See your completed pool in 3D, including landscaping with foliage and outdoor living areas.
Navigate your completed pool and view dimensions from a first-person perspective.
Work with our designers to make adjustments before construction begins.
Place additional elements and view multiple layouts and landscaping arrangements.
Constructing your 3D Swimming Pool Design
We can't design your dream pool without your input. Our designers want everything you've collected that could help illustrate your perfect swimming pool. Whether it's hand-drawn pictures, clippings of existing pools and outdoor living areas, or pictures you've taken yourself, bring them in to help conceptualize your new pool's features. We can work off of any materials you have to integrate the elements you want from each while leaving out features you dislike.
Once we've completed your pool's design, we take careful next steps to deliver a perfect swimming pool product:
Blueprint drafting: Once you've decided on the final layout, we'll take exact measurements and draft blueprints.
Pool Construction: We construct pools using the highest quality materials. These don't just provide a beautiful look and feel; they're built to last and provide user-friendly durability as well. Better materials are more resilient against the hot Phoenix sun. As a specialty company, every one of our employees is an expert in their field related to swimming pool construction.
Personalized service from the very first day: We assign an individual superintendent to every build. They'll be with you from the first consultation to the final cleanup. This allows us to macro-manage every project, ensuring that each detail and feature is implemented into the final pool design according to the blueprints, and nothing is overlooked between phases. Your project superintendent will work with you and give you a one-call representative for any questions or adjustments.
Adjust Your New Phoenix Pool Design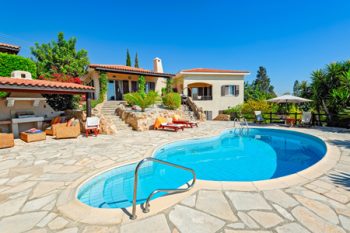 One of the best reasons to choose a company that includes 3D modeled design is the ability to make changes. Our first design is just a stepping-off point. If you love it, fantastic.
If you want to make changes, a model is the easiest way to do it. We can make necessary adjustments that affect the space, your use of it, and the final products before we ever break ground for construction.
---
Contact Us Today and Start Designing
We love creating pools from scratch that cater to each of our customers' needs, and we can't wait to take your designs, work with you, and create a model that exceeds your expectations. The pool you've been dreaming of is just a phone call away. Call us or fill out the form to the right to start your perfect pool project!