3D Swimming Pool and Outdoor Space Design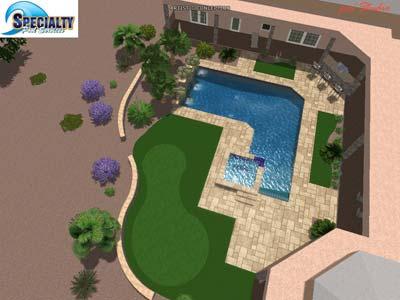 When you're deciding on the design specifications for a new pool, it can be difficult to visualize on paper. Looking at blueprints may make sense to an architect, but the average homeowner benefits much more from a 3D model. That's why at Specialty Pools, we use CAD-Software to design the layout of your pool before we create blueprints. This provides some major benefits.
With a 3-D model you can:
See your completed pool in 3D including landscape elements that include foliage and your home.
Navigate your completed pool and view dimensions from a first-person perspective.
Work with our designers to make adjustments before construction begins.
Place additional elements and view multiple layouts and landscaping arrangements.
Constructing your 3D pool Design
We can't design your dream pool without your input. Our designers want everything you've collected. Whether it's hand-drawn pictures, clippings of existing pools and outdoor living areas, or pictures you've taken yourself, bring them in. We can work off of any materials you have to integrate the elements you want from each and leave the ones you don't on the cutting room floor.
Adjust the design.
One of the best reasons to choose a company that includes 3D modeled design is the ability to make changes. Our first design is just a stepping off point. If you love it, fantastic. If you want to make changes, a model is the easiest way to do it. We can make important adjustments that affect the space, your use of it, and the final products before we ever break ground for construction.
Contact Us Today and Start Designing
Our designers love what they do. They can't wait to take your designs, work with you, and create a model that meets your needs and exceeds your expectations. The pool you've been dreaming of is just a phone call away. Call us or fill out the form to the right to get started.
---