Outdoor Space and Room Design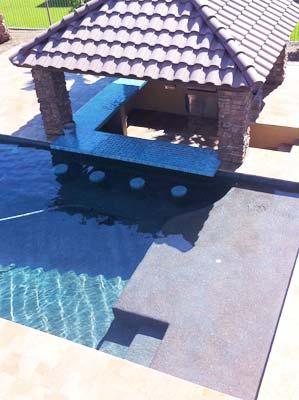 Those of us who live in the Phoenix area know the importance of outdoor living spaces. Most residents have swimming pools, some surrounded by patios and terraces, while others are part of a more elaborate landscaping plan that includes a fire pit or maybe a full outdoor kitchen.
If you have been considering remodeling your patio area or installing an outdoor living space, make sure it is well thought out before you begin and is compatible with the restrictions of your HOA. At Specialty Pools, we have experience navigating homeowners through the process of getting approval for their outdoor improvements.
Staying in compliance with local building codes is also a necessity. Choosing a reputable and local contractor will go a long way in assuring your project is done right and on time. In order to help you plan your outdoor living area, here are some things to consider.
Outdoor Kitchens and Bars
To be useful, you want your outdoor kitchen to provide a pleasant experience whenever you are preparing and cooking food. This requires careful research into the type of kitchen appliances that you will want to install.
They can be as simple as a built-in grill or as elaborate as top-of-the-line ovens and cooktops built into custom cabinetry. Convenience requires that sufficient storage is included so that you will not find yourself constantly going back and forth from your house to the outdoor kitchen.
Cabinets and other storage components should be constructed of weatherproof, or at least weather-resistant, materials unless they are completely shielded from the elements.
Newly developed materials make this much easier than it was in the past. You will also want to include ample refrigeration. Depending on how you plan to use the area, this could mean a compact unit, a full-size refrigerator, or more elaborate choices such as refrigerator drawers or a wine cooler.
Be sure your plans include adequate room for food preparation and cleanup. If you desire to have an outdoor bar, you should take that into consideration when selecting your sink, cabinets, and refrigeration.
Fireplaces and Fire Pits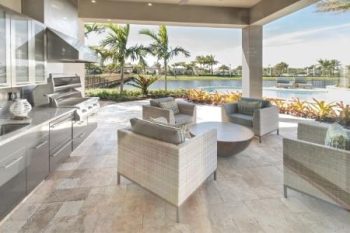 Outdoor fireplaces, just like indoor units, can add to the ambiance and create an interesting focal point, not to mention that you can use them to keep warm on a cold, chilly night like the ones we often experience in and around the area.
Fireplace designs and configurations range from classic to modern and can be constructed in a variety of shapes and sizes and finished in brick, stone, marble, or other materials. Because you will use it to create a fire, though, you will need to talk to your contractor about code requirements, which may place limitations on its exact placement and method of construction.
One thing you will need to consider is how you plan to use the fireplace. Will it simply be decorative and provide warmth, or will you ever use it for cooking? Fire pits come pre-manufactured in various shapes and sizes but can also be custom-built.
You will want one that is stylish and fits well into your landscaping plan, but you will also want it to be functional and provide warmth during a cool evening spent outdoors. A fire pit can be constructed as an actual pit in the ground or included in an above-ground structure. It may or may not have a chimney. As with the fireplace, there are safety factors you will need to consider and discuss with your contractor.
Ramadas, Pergolas, and Shade Structures
In a community around Phoenix, AZ, you know how hot it can become outdoors during the summer. However, you can make the temperature much more delightful in your outdoor living area by installing a ramada, pergola, pavilion or other shade structure.
Most of us are always looking for a way to cool off in the summertime. While a swimming pool can provide welcome relief and is probably the number one choice for cooling off, shade structures are most likely running a close second.
Many types, sizes, and shapes of shade structures are available that will fit into your landscaping plan. You could choose a ramada with posts and a roof that matches the exterior of your home or select a wooden, open-sided pergola. Your outdoor shade structure could be built as a standalone unit or incorporated into another outdoor space, such as a kitchen.
Contact Us and Begin Designs on your Outdoor Living Area Today.
We're your partner in building, maintaining, and even repairing your perfect outdoor space. If you're ready to bring it to life, call or contact us today.