Planning to build a custom pool? You're not alone – a pool is a great way to add value to your home and get more enjoyment out of your outdoor space. But before you start exploring pool design ideas, finding the right pool builder and designer for the job is important. Here are a few things to keep in mind:
Experience
There's a big difference between building a standard pool and creating a one-of-a-kind oasis, so you want to make sure you're working with someone who knows what they're doing. This is why it's important to ensure the builder you choose has experience with custom pools. This is important for several reasons. First, an experienced company will have a good understanding of the construction process and will be able to build your pool quickly and efficiently. They'll also know how to work around any potential problems that could arise during construction. Additionally, an experienced company will be able to offer you a wide range of design options and features to choose from.
The last thing you want is to have your dream pool turn into a nightmare because of inexperience.
Reputation
Reputation is also extremely important when selecting a custom pool builder and designer. Make sure to do your research and read reviews from past clients on sites such as Google, Yelp, BBB, and more. Pay attention to both positive and negative reviews, as they can both give you insights into a company's work ethic and quality. Also, ask for referrals from friends or family who have had a positive experience with a company in the past.
By doing a bit of research, you can ensure you're choosing a company with a good track record, which will give you peace of mind that your project is in good hands.
Design Creativity
The design of your pool is one of the most important aspects, so you'll want to find a company that has plenty of creativity and experience designing custom pools. They should be able to take your vision and turn it into a reality while also making sure that all of the necessary elements are included in the design. Additionally, they should be up-to-date on the latest trends in custom pool design so that they can incorporate them into your project.
Licensing, Certification, and Insurance
When choosing a custom pool builder and designer, it is important to ensure they are licensed, certified, and insured. A license ensures that your chosen company is legally registered in your state. This is the bare minimum a company should have. Certification shows that the builder has met standards set by a professional organization. Insurance protects you in case of any accidents or damage during the construction process. Make sure to ask for proof of all three before hiring a builder.
Communication and Customer Service
When choosing a company to build your custom pool, it is important to consider their communication and customer service skills. After all, you will be working closely with them to create your dream pool, so you need to make sure that they are easy to communicate with and that they understand your vision. When meeting with potential pool builders, pay attention to how well they listen to your ideas and whether they seem comfortable asking questions. Also, ask about their process for handling customer service issues. You want to ensure that you are working with a company that is responsive to customer concerns and committed to providing a high level of service. By evaluating a company's communication and customer service skills, you can be sure that you are working with a builder who will make your vision a reality.
Price
While experience, reputation, and design creativity are important when choosing a pool contractor, you also need to consider the price. You'll likely get what you pay for, so it's important to find a company that's within your budget but also offers a high level of quality. Get estimates from several different companies before making your final decision, and make sure to ask about any hidden fees or charges. Also, remember to ask about the payment terms and be sure to get everything in writing to avoid future conflicts.
Warranty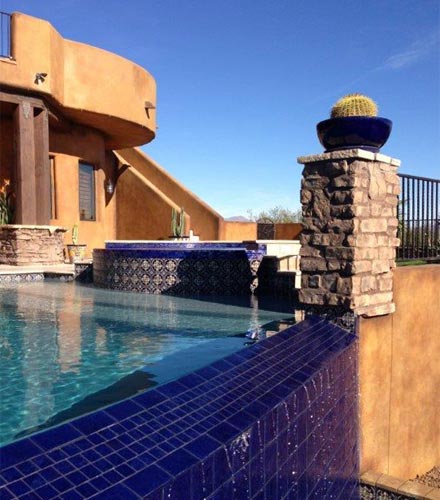 Finally, don't forget to ask about the warranty. Most custom pool contractors will offer some type of warranty on their workmanship and materials. This will protect you in case something goes wrong with the pool after it's built. Make sure to read over the warranty carefully before signing anything so that you understand what's covered and for how long.
How much will a good pool contractor charge me?
This is a difficult question to answer because it depends on a number of factors, including the size and complexity of the pool, the materials used, the location, and more. For an accurate estimate, contact your local pool contractors.
Are custom pool designers worth it?
Yes, custom swimming pool designers are definitely worth it if you want a high-quality, unique pool that's designed specifically for your home. With a custom swimming pool, you'll be able to choose the materials, features, and design elements that you want, so the finished product will be exactly what you're looking for.
Your Local Swimming Pool Contractor In Phoenix
Building your dream pool requires a level of craftsmanship few other outdoor-living specialists possess. Many companies toss your project from employee to employee. This is one of the easiest ways to invite mistakes and lose your vision in the process. Our team at Specialty Pools doesn't just build standard pools. We collaborate on a vision.
We understand that everyone's needs are different. We meet with you to discuss your particular needs. How do you want to use your space? Whether you have children and need a play area, like to entertain, or just want a place to hang out and cool off—we can design the right environment for you. Living in Arizona, we understand that your backyard is an extension of your living area. Contact us. Let us customize an outdoor living environment for you.
Benefits of choosing Specialty Pools for your custom pool project:
No large up-front down payments – We only work with licensed subcontractors whom we pay as soon as work is finished. This allows you to pay for every phase individually as it's completed.
No showrooms – Showrooms are a money pit, and that cost is transferred to you. You don't need a showroom to view samples and materials. We've skipped that so you can enjoy greater savings.
A smaller staff – Many companies have someone for each job. An accountant, designer, supervisor, secretary, and more can increase operating costs. We work with a small group of core experts in multiple disciplines. This saves money without compromising quality.
Award-winning designs – Our pools are made to your specifications. No two are alike, and we work off of your samples, desires, ideas, and anything else you bring to the table. Starting fresh with every design allows us to create something that's truly unique.
3-D models that you can navigate – As part of the design process, we'll build a 3-D rendering of your new Phoenix pool before the building ever begins. This allows us to easily make changes to the design after you view them from a first-person perspective.