Installing a pool in your backyard does a lot more than ensuring you get the most out of the swimming season. A swimming pool can significantly enhance the curb appeal of your property and become the new center of attraction for would-be buyers. Aside from the aesthetic effect, does a swimming pool boost the financial value of your home? This blog post explains different aspects of pool installation, its costs, and how it can add value to your property.
How much does pool installation cost?
The cost of installing a pool is not one price fits all. Depending on the size, shape, and depth of your pool, it will vary in cost. Typically, most pools are installed at around $200 per square foot but can be negotiated lower or even higher based on extra services needed, such as landscaping that may come with an additional cost. This varies depending on the size of your pool, but it has an average price of between $30,000 to $50,000 for a small backyard pool, while infinity edge pools can go as high as 400k+.
How much does it cost to maintain a pool?
Aside from the initial installation cost, a pool does come with an additional maintenance fee. Depending on what chemicals you need to use and how often, a small backyard pool that requires minimal chemical treatment costs around $100 per month. However, the price can go as high as $300+ for large pools requiring more upkeep like automatic water treatment, which comes with a monthly fee.
Will a swimming pool increase property value?
Yes! Statistics show that properties with pools sell faster and at higher prices. A pool can increase a home's value by between $20,000 and $70,000, depending on the location of your house in relation to where you plan to install it. Generally, houses with swimming pools tend to sell faster than those without! However, whether or not your pool adds value to your property may depend on a few things. These include:
Buyer characteristics
If the local real estate market has buyers shopping for a property with a swimming pool as a specific feature of interest, then your property might end up attracting a higher asking price than the others on the market. For instance, pensioners may find a pool attractive due to the fitness or lounging opportunities on offer. However, this may not be the case if the potential buyer has no interest in using the pool. It all comes down to whether your property attracts the right buyer.
Pool expenses
If you have a backyard pool that requires little annual maintenance costs, it could add property value. This is because anyone looking for a home with a swimming pool would be able to get the most out of their purchase from day one. If they are required to regularly pay extra fees or undertake any other kind of upkeep work before using the pool in their backyard, this could deter potential home buyers. This is why many buyers require that all repair work on the pool be completed before signing off on the deal.
Local climate
Where you live might determine whether or not a pool adds home value. For example, if the climate in your area is warm all year round and has sunny days that go on for weeks at a time, it will make sense to have a pool installed and take advantage of the weather. However, if you reside in a cold area with low temperatures throughout the year, your potential property buyer might have very little use for the in-ground pool.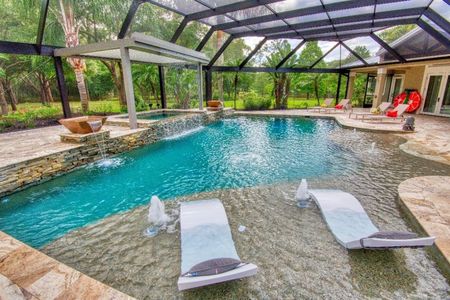 Real estate market conditions
If your geographic area has a high demand for properties with pools, chances are your home will command a higher asking price due to its huge selling point. A pool may increase your probability of selling by as much as 20%. If the real estate market conditions are unfavorable for buyers who want a pool, there is no point in putting one on display. In this case, you might have to reduce its price or remove it entirely from view when potential buyers come around, especially in a higher-end neighborhood.
Quality of the pool
Finally, the quality of your in-ground pool will play a part in whether or not it adds value to your property. If you have an older model that has seen better days and requires constant repairs, this might deter potential buyers who won't enjoy using their new purchase immediately. Furthermore, some pools are carelessly designed and end up being an eyesore on the property rather than something that adds to its appeal. For your inground pool to increase the property's value, it should have an aesthetic appeal that follows the latest trends on the market.
Should I install a pool in my home?
If you're planning to spend money to have a pool installed in your backyard, do it for personal reasons and not increase your home's asking price. Installing a pool is an expensive exercise that requires regular upkeep to maintain its initial attractiveness or slip into disrepair. If you live in a warmer climate where the weather remains favorable throughout most of the year, installing a pool will make sense. The same is true if you have young children who want to play in the water and have fun in the summer months.
Get Your Custom Pool Built!
At Specialty Pools, we have pool builders Peoria AZ to design and create dream pools that will increase the resale value of your home. Let us know what you have in mind, and we will give you a free consultation to determine the best course of action for your needs. Give us a call or send us an email to schedule an appointment today!