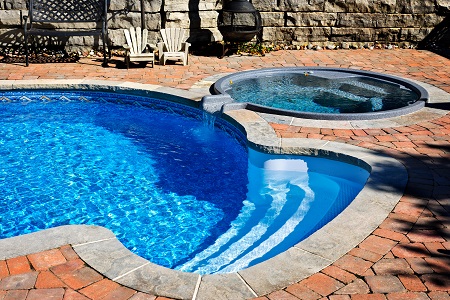 The summer season is here, and there is no other place you'd rather be than in your very own dream swimming pool area. A dip in the warm pool water can be invigorating to your body and soul. It also makes for a great way to spend time with friends and family. However, sometimes going to the community pool can be such a drag. That's why you should consider hiring pool builders to construct a swimming pool on your property. This post considers the benefits of owning a pool!
Great hang-out space
A home swimming pool can be the ultimate summer hang-out spot. You won't have to worry about packing up your belongings and heading to community pools. Instead, you can invite all your friends over to your place for some fun in the sun. You can also plan parties and other entertaining events right in your own backyard swimming pool. This will be a great way to make new memories and spend family time with the people you care about.
Improves home value
In addition to providing a great place to spend your summer days, a swimming pool can also increase the value of your home. According to experts, adding a pool to your property can raise your home value by as much as 7%. If you ever decide to sell your property, potential buyers will be willing to pay more for a house that already has a pool. This is because they will know that they won't have to go through the trouble and expense of having one built.
A great exercise space
Swimming is the perfect activity for you if you're looking for a fun and unique way to get in shape. It's a low-impact form of exercise that is easy on your joints. Swimming is also a great cardio workout that can help you burn calories and tone your muscles, offering numerous health benefits. And what better place to swim laps than in your own pool? You'll never have to worry about getting kicked out of the pool or having to share lanes with other swimmers.
Privacy
When you have a backyard pool on your property, you won't have to share it with anyone else. You can enjoy complete privacy and use the pool whenever you want. This is especially beneficial if you have young children who need to be supervised while swimming. Forget about jostling for a spot in the pool or having to deal with other people's messes. With your own pool, you can swim in peace and quiet any time you want.
Enhances your curb appeal
Having a swimming pool in your backyard can also enhance the curb appeal of your property. This is especially important if you're planning on selling your house in the future. A beautiful pool will make your home more attractive to potential buyers and help you get top dollar for it. You can get a custom pool built that complements the architecture of your house and the rest of your landscaping. To put it simply, you can build your dream pool any way you like in our outdoor living space. It can also be the focal point of your backyard.
Improves your swimming abilities
Swimming is an important skill that everyone should master. If you have young children, a pool is the perfect place to teach them how to swim. You can also use it to improve your own swimming abilities. There's no need to feel self-conscious in your own outdoor space regarding your fitness or skill level. You can practice as much as you want without worrying about being judged by others. Also, you never know when your swimming might come in handy!
Great way to relieve stress
Jumping into the pool is one of the best ways to unwind from a long and tedious day. The refreshing water can help clear your mind and relax your body. There is also something therapeutic about swimming laps. It can help to take your mind off of your worries and give you a chance to focus on your breath. If you're feeling stressed out, take a dip in your pool and let all your troubles float away.
Cost-effective entertainment
Another benefit for swimming pool owners is that it's a cost-effective way to entertain your family and friends. Instead of spending money on movie tickets or dinner, you can invite people over to your place for a pool party. Using your pool as a staycation destination can also save money on vacations. If you have a swimming pool right in your backyard, there's no need to spend a fortune on entertainment when the swimming season comes.
When is the best time to build a swimming pool in your home?
The best time to build a swimming pool is during the spring or summer. This is because the weather is warm and you'll be able to use it right away. It's also a good idea to start planning your pool project early so that you have plenty of time to save up for it. Swimming pools can be expensive, so it's important to be financially prepared before you start the construction process.
Are swimming pools hard to maintain?
No, swimming pools are not hard to maintain. There are a few simple tasks that you need to do on a weekly basis, such as cleaning the pool and checking the pH levels of the water. You also need to make sure that you have the proper chemicals on hand to keep your entire pool clean and safe. If you follow these simple steps, pool ownership won't be tricky at all!
Contact the professionals!
If you're thinking of installing your very own dream pool in your backyard, Specialty Pools are your go-to guys! We are a professional pool building company that has been in business long enough to know exactly what you need. Our pool builders in Peoria, AZ and the surrounding area will work with you to create the perfect pool design for your home. We also offer a wide range of services, including pool installations and your very own pool design team. Contact us today to get started on your dream backyard oasis!
We offer the following services:
A pool contractor to work in the design process
Pool construction process
3D pool plan design technology
Pool remodeling
Ground pools
Exceptional customer service