Imagine a personal paradise right in your dream backyard oasis, where the cooling embrace of crystal-clear water tames the summer sun's sizzle. Sounds like a dream, doesn't it? But here's the thing – you can turn this dream into reality! You're about to embark on an exciting journey to design your inground pool. And we're not talking about just any pool; we're envisioning a luxurious oasis that elevates your outdoor living space and becomes the envy of the neighborhood.
This article will share the top five must-have features for your dream inground pool, from mesmerizing fountains and waterfalls to cozy built-in seating and dramatic LED lights. We'll also explore extras like an outdoor shower for pre-swim rinses or a swim-up bar for entertaining guests.
Fountains and Waterfalls
You've got to admit there's nothing quite like the soothing sounds of fountains and waterfalls to add a touch of luxury and tranquility to your dream inground pool. These features contribute to the aesthetic appeal and create an alluring ambiance that can transport you to a tropical paradise right in your backyard.
Add cascading waterfalls for a natural look or sleek, contemporary fountains for a modern vibe. You may love illuminated jets that sparkle under the moonlight. Or is a tranquil rock waterfall more up your alley? The choices are endless.
With today's swimming pool technology, these features can be fully automated and customized to fit your style and mood.
Outdoor Fire Pit
Imagine hosting a Gatsby-style soirée by the flickering light of an outdoor fire pit right next to where the water gently laps against the pool edge. This feature adds ambiance and warmth, creating a cozy atmosphere for late-night swims or intimate gatherings.
Fire pits come in various designs, from rustic stone structures to sleek gas-powered models. You can choose one that matches your innovative luxury pool aesthetic and meets your functional needs – cooking marshmallows or merely providing heat. They're also safety-conscious, with protective screens and easy-to-use controls.
An outdoor fire pit is more than just a pretty feature; it's a gathering spot, a conversation starter, and, most importantly – it extends the use of your dream inground pool into cooler evenings. It's indeed a must-have!
Built-In Seating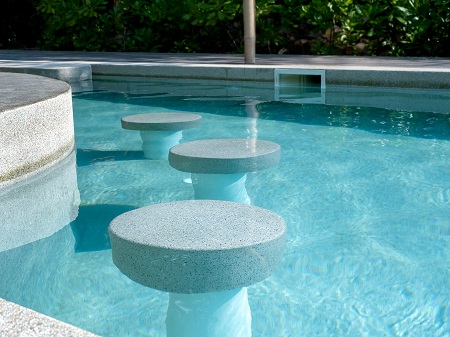 Relaxing in the pool isn't just about swimming – there's something special about built-in seating. It brings comfort to a whole new level. Imagine lounging on a submerged bench, soaking up the sun while staying cool in the water.
This isn't your typical pool floaty. These seats are part of the pool's structure and outdoor living design. Built-in seating can be customized to fit your needs and preferences. Whether you prefer an intimate corner for two or sprawling benches that can accommodate all your friends, there's no limit to what you can create.
Plus, they're perfect for kids who might not yet be ready for deep waters. So don't just dream of having a pool – envision one with comfortable built-in seating that elevates your relaxation experience. It's time you brought resort-style luxury straight into your backyard retreat!
LED Lights
Let's not forget the magic that LED lights can bring to your stunning pool. After a long day, wouldn't you love to take an evening swim under the stars with enchantingly lit waters? Here's why these must-have features should be part of your dream inground pool design:
Aesthetic Appeal– The glow from LED lights gives your pool an exquisite, dreamy look that's sure to impress. They can also come in different colors, letting you change the mood at will!
Safety and Visibility– Illuminating your pool ensures safer night swims by increasing visibility. These lights also outline steps and ledges clearly.
LEDs are energy-efficient, too, saving you money in the long run. So invest wisely in LED lights for an enchanting swimming experience!
Cleansing Outdoor Shower
Nothing beats the refreshing feel of an outdoor shower washing away the chlorine after a fun-filled swim. A cleansing outdoor shower should be a must-have feature for your dream inground pool, offering practicality and luxury.
Consider installing a high-quality shower with adjustable settings to cater to everyone's preferences. Look for models featuring rainfall overheads or handheld options for convenience. Choose eco-friendly designs incorporating solar heating systems, providing warm showers even on cool days.
Don't forget about aesthetics – opt for materials that complement your pool area's landscaping and architecture. You can also add privacy screens or greenery around if needed.
Ultimately, an outdoor shower will enhance your swimming experience while adding value to your property. It's indeed a worthy investment!
Splash Pad or Tanning Ledge
Sure, you could lay out on a boring old towel to catch some rays, but why do that when you can bask in style on a splash pad or tanning ledge? These innovative pool features are a must-have for your dream inground pool.
A splash pad is perfect for children and adults, offering an interactive play area that's fun and safe. On the other hand, a tanning ledge allows you to lounge in shallow water while soaking up the sun.
These features aren't just about aesthetics; they're practical too. Tanning ledges provide an ideal space for relaxation after swimming, while splash pads keep things exciting with their playful spouts of water. They're functional, stylish, and sure to make your pool the talk of the town!
Automatic Pool Cover
Imagine the peace of mind you'd feel knowing your pool is protected with an automatic cover at the touch of a button! This must-have feature for your custom inground pool offers numerous benefits:
Safety: An automatic cover provides an added layer of protection, preventing unwanted access to the pool when not in use.
Maintenance: It keeps leaves and debris out, reducing cleaning time.
Energy Efficiency: Retaining heat can decrease energy costs associated with heating your pool.
Water Conservation: The cover minimizes evaporation, helping conserve water.
Investing in an automatic cover means more than just convenience. It signifies a commitment towards safety, efficiency, and sustainability.
Swim-Up Bar
Let's dive into something more exciting. Imagine not having to leave your pool for a refreshing drink or snack. This is where a swim-up bar is an essential feature for your custom inground pool. A swim-up bar allows you to enjoy all the luxuries without ever leaving the water. Whether it's sipping on cocktails during a sun-soaked afternoon or enjoying light bites without stepping out of the pool, this feature adds a resort-like feel right in your backyard.
It's perfect if you love hosting parties or simply want to relish in ultimate relaxation and leisure at home. With careful planning and realistic pool design, this must-have addition will surely make your swimming experience extra special and luxurious.
Attached or Separate Spa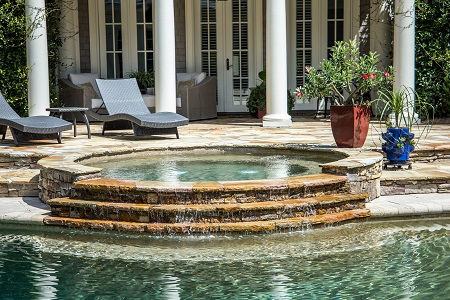 After a long day, wouldn't it be fantastic to sink into your spa's warm, soothing waters? Whether attached or separate from your swimming pool, this luxury addition can provide an intimate space for relaxation or even a lively social gathering spot.
Picture the sun setting as you lounge in the bubbling comfort of your spa, surrounded by the tranquil sounds of water and nature. This inviting retreat could become your favorite part of the house, offering therapeutic benefits and a perfect escape from daily stressors at home.
A perfect spa design should have customizable jets for targeted hydrotherapy, comfortable seating for multiple people, and aesthetic elements like cascading water features or mood lighting. Imagine how these indulgent features could elevate your backyard experience.
Specialty Pools Can Help You Bring Your Dream Pool to Life
Having your dream swimming pool doesn't have to be extravagant. In fact, in sunny Scottsdale, it's almost essential to have a basic backyard pool. These beautiful pools serve multiple purposes, such as being a focal point for social gatherings, keeping kids occupied, providing a refreshing place to exercise, and offering a private spot to unwind.
At Specialty Pools, we ensure that owning a pool is accessible to everyone. We offer affordable prices and a wide range of customization options, making it possible for anyone to have a simple place to cool off.
Throughout the years, we have successfully completed projects at various price points. We want future customers to know that we can build swimming pools that suit their budget, not just their vision.
Our unique approach, with low overhead costs and close-knit pool building professionals, allows us to build stronger relationships with our clients. This sets our pool building services apart in the pool industry and enables us to meet our customers' expectations while delivering exceptional service.
Contact us today so our swimming pool builders can get started on your custom pool.
Visit our About Us page for more information about our pool service company, or check out our Photo Gallery to see examples of our premiere pools!