Custom Pool Builder & Designer
At Specialty Pools we do it all:
Designing
Building
Maintaining
Let's get started today!
Create your personal oasis with an award winning pool builder.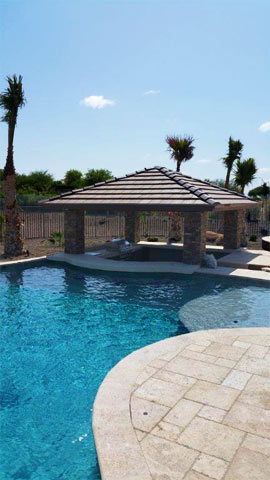 Building to your ideal requires a level of craftsmanship few other outdoor living environment and custom pool specialists possess. Many companies toss your project from employee to employee. This is one of the easiest ways to invite mistakes and lose your vision in the process. We don't build standard pools, so we do things a little differently.
Receive personalized service at every step.
At Specialty Pools you'll work with a single superintendent. They will be personally assigned to your project from the very beginning and walk you through the process from design to completion. Our company maintains one of the area's highest quality control levels. Managing at a maco level delivers the precision we need, and makes sure blueprints are followed to the centimeter.
Get savings without compromise.
Our design team will work beside you to discuss how you wish to utilize the space, layout of the environment, and what features you want to include. We'll come to your property to analyze the layout, take measurements, and discuss your ideas. Any reference material is always welcome, and we can even take individual parts from your photos, clippings, links, and pool videos to create a unique pool that's all your own. Our design and build process allows us to reduce costs while using higher quality components than the majority of our competitors. This means you'll get more for less, and a pool that's truly built to last.
Your ideal pool starts here.
We're proud to provide Arizona businesses and residences with the ability to get everything they want in an outdoor environment. From design and construction to remodels and repairs, if you're ready for the pool you want, without compromise, we're ready to deliver it. Specialty Pools isn't just our company name—it's what we do.