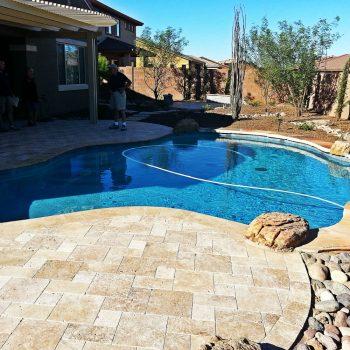 Inground Swimming Pools Built Especially for Your Home
Whether you're looking to remodel your current inground pool, have it repaired, or install a new one altogether, Specialty Pools would love to be your partner. Our local team takes workmanship seriously and knows how to create custom pools for any lifestyle and budget.
If you're looking for a small pool just to get you started, we can help you discover ways to balance cost with vision. And if you're having trouble imagining how a pool would work with your current space and landscaping features, our experienced designers can lend a bit of creative energy to get you to the next stages.
Backyard Pools Integrated with Your Existing Landscape
Our 3-D modeling software can give you a visual of what your inground pool will look like on your property once it's completed. This helps tremendously in avoiding design flaws, aiding functionality and practicality when it comes to dreaming big about your backyard space.
We communicate with you through the whole process, ensuring you get exactly what you envisioned or better.
---
Why Invest in a Custom Built-in Pool?
Pools are absolutely essential in Peoria. Not only for comfort and enjoyment now, but for the future. Custom pools do wonders in adding to your overall home value and increasing its appeal for prospective homebuyers.
Though easy to install, above-ground pools are less aesthetically appealing and have an extremely short lifespan compared to their in-ground counterparts.
There are three common types of inground pool materials. And though we primarily build concrete pools, we're happy to share our knowledge about the advantages or disadvantages of each:
Preformed Fiberglass Pools – These are rarely customizable, but talk to us if you're interested in upgrading your current fiberglass pool.
Concrete Pools – These are the most durable residential pools available. Using steel-reinforced concrete to create the shell, this material provides stability and the option to re-plaster if needed later on.
Vinyl-lined metal or plastic pools – These pool frames are built above-ground and then set into an excavated hole.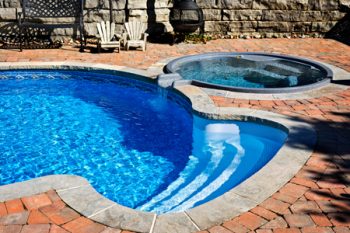 Each type can be customized with alternative materials such as natural stone, tile, and other fabricated textures like pebble aggregate. Edges and decorative borders are created by mounting a "coping" to the edge of the pool.
Specialty Pools uses high-quality components and processes that are carefully coordinated for efficiency and accuracy. We can uphold these standards while remaining very cost-competitive. This reduces your maintenance requirements over the life of your pool and improves its durability and longevity.
---
Call today for inground pool design and construction in beautiful Surprise, Arizona!