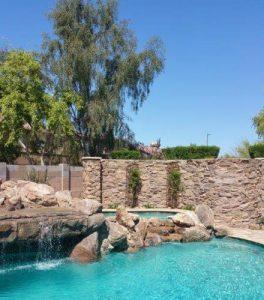 A Custom Pool Company That Values Your Input
At Specialty Pools, we know that you have plenty of options when it comes to pool service. But our unique focus on involving the client in the process is what sets us apart from the rest.
Our commitment to the Queen Creek community is strong because, as a local business, we have roots here, too. And we've been around long enough to know how to help local residents shape their best ideas into a beautiful, functional final product.

---
Queen Creek pool design and remodels that start with you
When you work with our swimming pool construction experts, you don't get a swarm of workers buzzing around your property, neglecting the sanctity of your personal space. You get a partner who respects your home and understands the magnitude of each project from the perspective of a homeowner.
Choose a company that works in a tight-knit group of master craftsmen; maximizing results through clear communication.
Your custom pool is precisely that — custom. This eliminates the need for a showroom and lets us rely more fully on our compelling portfolio and customer referrals.
Our pool remodeling process is carefully outlined to ensure that no detail is overlooked and that both you and your property are well taken care of. You can expect a well-organized system of execution as well as constant updates on our progress. Pool remodels generally include:
Consultation
3-D model designs
Blueprtint drafting
Pool construction
---
Care and Maintenance for Any Pool Style
Despite its primary role in daily relaxation and enjoyment, every pool requires maintenance and repair from time to time. Responsible pool ownership requires careful upkeep that extends the pool's lifespan and ability to provide enjoyment for many years. Since we build pools from the ground up, we have a deep understanding of what kind of maintenance each type requires. Types of pools we build, remodel, and provide maintenance for include:
Swimming pools
Commercial pools
Salt Water pools
Lazy river pools
Play pools
Diving pools
Lap pools
Wading pools
Pool/Spa combos
---
Get Started With the Right Custom Pool Company Today!
Pools are absolutely essential in this hot, dry climate! So if yours fails to provide the comfort and reprieve you need after a long day in the heat, make sure to choose a pool service contractor that understands your unique needs. Whether you just need pool cleaning or a full pool-design overhaul, our company guarantees the highest quality service available.
Queen Creek's amenities and great public spaces like Founders Park Community Center are great for getting out of the house, but when you want a relaxing day at home in the comfort of your own pool, make sure it's in the best shape possible with Specialty Pools.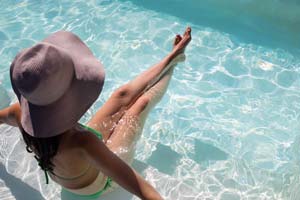 ---