Is a pool remodel right for you?

If your swimming pool just isn't cutting it anymore, it may be time for a remodel. There's nothing more cost-effective, but the quality of your pool remodel depends on the company doing it.
At Specialty Pools we're dedicated to our clients. We work with you from start to finish. That means one point of contact and personalized customer service. We never over-schedule. This allows us to focus all our efforts on each client. Get more for your pool remodel in Goodyear AZ.
Call us now to schedule a consultation.
---
Why remodel your swimming pool?
Save on costs and get amazing results. A remodeled pool is the best thing you can do for your budget. Our designers use your existing structure and layout. We restore your swimming pool and re-imagine it at the fraction of the cost of a new pool.
Restore your home swimming pool. Pool restorations don't end at the poolside. We can add features like rockeries and waterfalls, replace the heating and filtration system, and change nearly any aspect. This extends to lounging areas and hardscaping as well.
What does a pool remodel in Goodyear AZ involve?
Just some of the remodeling work we do includes:
Pool resurfacing
Pool replastering
Concrete work
Pool refinishing
Pool cleaning
Tile work
Equipment replacement
Material changes
Hardscaping
Modernize your swimming pool with award-winning remodeling.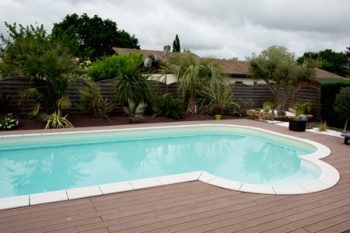 Our pool remodels win awards. That's because our focus is on your needs. We take your input seriously and do the work required to transform your pool. Our team can even add hot tubs, and entertainment areas.
Updating materials and changing accents can modernize your pool in ways you never thought possible. The pool you've been dreaming of is in your backyard right now. Our team can help you realize it.
Contact us today.
Scheduling is limited. Call or contact us now to schedule your pool remodeling in Goodyear. It all begins with you, right now. Let's get started.