Relaxing Lazy River or Current Pools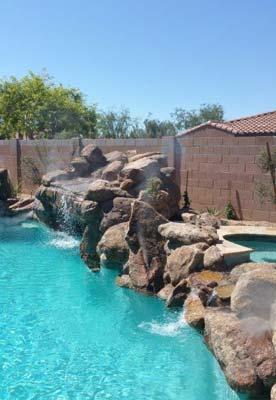 Are you looking for a custom swimming pool with serious pizzazz? Consider adding a lazy river to your pool design. A lazy river will add relaxation and beauty to your pool. It's fun for the whole family, and guaranteed to impress any visitor!
While lazy rivers are most commonly found in water parks and amusement parks, the right pool builder can incorporate this amazing feature in your home swimming pool.
Lazy rivers offer a gentle current that pushes you around your pool, providing relaxation and fun. Specialty Pools is you premiere lazy river builder in Arizona, so lets start building the coolest place for you to relax.
If you can imagine it, we can create it.
There are no limits to what your lazy river can look like when you build a custom pool. A small island might hold a few plants. A large island can be its own outdoor room.
You can connect the island to a large bridge, and build an entire outdoor kitchen and living room area next to the pool and inside the lazy river. With such a beautiful, unique space, entertaining has never been easier.
Planning the Perfect Lazy River
When planning a lazy river in your backyard, you'll want to consider the features that are most important to you. No river is like any other because they are unique to your space. Think about whether the space will be for relaxation or swimming and family fun. It can be classy and elegant or exciting and adventurous. The type of river should fit your personality and lifestyle.
Lazy River Considerations
•Size

The size of your river depends on many factors from budget to available space. Assuming you have a fairly flexible budget and ample space for the river of your dreams, pick the elements that will make you happiest. Will people use the pool with tubes for floating and relaxing? Will it be used for exercise so people can walk or swim against the current? Is it for family fun or for a couple to relax after a hard, stressful day at work. These questions will help design your river.
•Lazy River Speed and Dimensions

One of the considerations when installing a lazy river is the speed of the current and whether it will be fixed or varied. You want to decide how fast or slow your river should be. Will it always be slow and lazy, or will it be faster for swimming? You'll want to think about the length and dimensions of your river. Will it wind and twist or continue on a straight path? A professional can help you answer these questions based on the size of your property, and how much square footage you want to devote to the river.
•Swimming Pool Island Design

The island in the middle of your river is an important aspect of the design. Without the island to wrap the river around, the water is a pool not a river. Many people use the island as an opportunity to create a fabulous design element not leave a blank, unusable block of cement or tile. The island has limitless possibilities. It can be a space used as an oasis of calm surrounded by the river. A screen of plants can be created along with an entrance only accessible to those in the river. This makes it a true island. Inside the ring of plants, trees and flowers, you can have chairs, an umbrella and soothing water sounds. This is a great place for reading and relaxing. In the middle of the river, there's space for a hot tub, soaking pool or fountain. The choice would depend entirely on the homeowner's preference. A hot tub would give the homeowner more options for their pool space while a fountain would be a delightful aesthetic of the overall backyard design.
•Waterfall

The island can be part of the design elements in the backyard. A tropical themed backyard with rocks, palm trees and waterfalls can be continued in the center island. It could have a small fountain pool with water that falls directly into the river.
•Pool Grotto

Instead of having an island hovering over the top of the river, a cave or grotto with or without a waterfall can be a beautiful addition to the river design. It can be used for family fun with kids playing and splashing inside the cave, or it can be used for relaxing. We can even add a TV to watch inside the cave.
•A Bridge Over the Lazy River

Whether you choose a bridge or not would depend on the island in the middle. A bridge can lead over the river into the center island allowing guests and family to experience the feel of a separate oasis. If you choose a bridge, it could be a rock, brick or wrought iron bridge depending on the style of your home and the style of the river design. A tropical theme would be topped off beautifully with a rock bridge and waterfall. A small cottage with an English garden theme would be delightful with a scrollwork iron bridge. An island with a pool or a plant-screened hideaway might not need a bridge. It could be a secret area for getting away from the grind of life and feeling like you're on a tropical island all alone.
Transform the way you use a swimming pool
Children and adults alike can enjoy floating along your lazy river. A floating raft or inner tube in a plain swimming pool can be relaxing. But cruising down the river in your own backyard? Sheer bliss! Adults will love the slow, gentle current of a lazy river. Kids use the river to race each other. If they find the natural speed of the river a bit sedate, children can paddle faster. The kids will be entertained, and the parents will be grateful that the kids will sleep soundly after racing around the river all day.
A lazy river can transform a plain swimming pool into a festive outdoor space. It's like having a water park in your own home. You and your whole family will want to entertain more than ever before. Instead of the hassle of ferrying friends and family to an amusement park, you can take a "staycation" at home.
A lazy river at home will help keep the kids at home, where you know they're safe. As kids get older, family time becomes a rare and precious commodity. A spectacular home swimming pool gives kids a reason to want to stay home. If you ever decide to move, an impressive home swimming pool complete with lazy river can add to the resale value of your home.
Contact us for your lazy river today!
We can create a stunning lazy river that you won't want to leave. Get a pool that delivers more. Call or contact us today.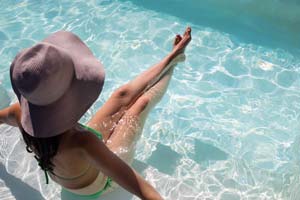 ---